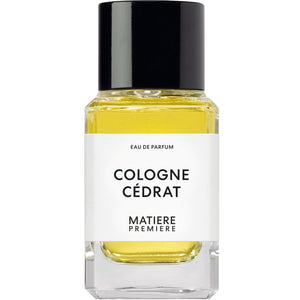 Created by Aurélien Guichard a 7th Generation perfumer, from as the name suggests (Matiere Premiere) raw material.
Aurélien's idea to make a citrus that lasts.
Cologne Cédrat has the main ingredient of Italian Citron Oil while Black Pepper Oil from Madagascar and Argentinean Pink Pepper Oil are used to amplify the fresh spicy facet. Italian Bergamot Oil and Mate Absolute from Paraguay emphasize the tea facet to prolong the freshness..
100ml Eau de Parfum in handmade bottle