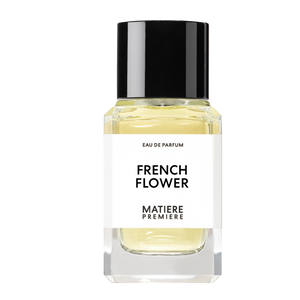 Created by Aurélien Guichard a 7th Generation perfumer, from as the name suggests (Matiere Premiere) raw material.
Aurélien's idea to make an intoxicating smell inspired by a Tuberose field at night.

FRENCH FLOWER is built around an overdose of Tuberose, organically grown by MATIERE PREMIERE in the South of France. Ginger amplifies the whiteness of tuberose petals. Green Tea Leaf Oil and a Green Pear accord underline the vegetal character of this stemmed flower.
100ml Eau de Parfum in handmade bottle